In order to attract and secure top management consulting talent, it is often cost-effective and efficient to employ the services of a recruitment firm. This can be on a contingency basis (or "success only") or retained executive selection or "search". This is particularly the case if you are seeking elusive candidates with specific expertise. Alternatively, it may be that the appointment requires sensitive handling.
But not all executive recruitment or 'search and selection' firms are the same. Success in finding the perfect hire is dependent on ensuring that you pick the most appropriate recruiter for your assignment.
So how can you ensure that you make the best choice? What questions should you ask?
Here is Prism's advice on how to make the selection:
1. Ask for recommendations from colleagues or your network
These can be recommendations from clients and candidates who have experience of a particular recruitment firm. A positive report from candidates is equally important as the recruiter will be the "face" of your organisation.
2. Do your research
In particular look at market presence and visibility. How is a recruiter going to attract good candidates for you if they are invisible or if their presence online is off-putting to people? Is their website professional? Their LinkedIn presence? What about their staff? Do they appear to advertise vacancies on their own site or other major job boards? Not all recruiters want to throw money at job sites but if prospective candidates have no way of seeing your vacancy, even on their own site, that inevitably limits their reach and puts a barrier up to potential candidates and applicants.
3. Do they know the market?
Do they have experience of successfully placing candidates in similar roles in other organisations? You should be comfortable that they have adequate knowledge of the industry and the type of position in question. It is crucial they appreciate the skills and experience required by the successful candidate as these will form the basis of the recruitment firm's search.
4. How does the executive recruitment firm intend to execute the search?
Will they rely primarily on a database of candidates and advertising? Or will they use their network and research resources to access a wider pool of candidates to include both active and passive candidates? Many headhunting firms concentrate predominantly on 'passive' candidates. However, to do so will limit the field of candidates for no obvious gain. Active candidates have many advantages and a good search firm will seek out both. You should seek a recruiter that deploys a variety of sourcing channels.
5. Has the recruiter taken time to fully understand the role and also the culture of your organisation?
They should ask searching questions and be objective and honest about the parameters for success. They should be able to advise on a salary and benefits package and any other factors which could make the position more attractive to a sought after candidate. Make sure you allow time: a full briefing that also allows you time to find out about their firm will take at least 90 minutes, sometimes longer.
6. How effectively can they represent your company?
For smaller or less well-known consultancies an executive recruitment firm fulfils an important role as brand ambassador for your company. They must understand your culture and attributes and have the professionalism to market your company effectively to potential candidates. The management consultancy market is very complex and involves dealing with highly intelligent people. If the recruiter is not able to comprehend the subtler aspects of what you are discussing with them then they may struggle to engage with and deliver good candidates and to manage the process effectively.
7. How will the recruiter manage the process?
Check timescales and when and how they will require feedback and input from you, the client. How does the executive recruitment firm manage the candidate pipeline? Do they respond to all applicants professionally? When can you expect to begin interviewing shortlisted candidates? How will the recruiter be involved with salary negotiation and on-boarding of the successful candidate? Will they keep you abreast of progress in a frequent, transparent and honest manner? Traditional search firms come in for criticism because of their "black box" approach to recruitment and can be very frustrating to work with.
8. Do you trust them and have evidence of their integrity and professionalism?
This might seem obvious but Prism's experience is that many employers who use recruiters are somewhat blasé about the importance of this. It does however underpin all aspects of the relationship with you and with the many candidates (or prospective candidates) they will be engaging with on your behalf. At worst, your reputation will be damaged by association and the recruiter may fail to deliver the better candidates because of their lack of professionalism or poor reputation.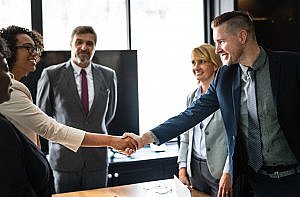 9. Who will be handling the search?
What experience do they have of this type of role? Will your assignment be given a high level of priority and will you have direct access to the individual recruiter as necessary? Are you reassured that their workload is managed such that they have adequate time to devote to you as a client? Have you met and are you comfortable with the people directly involved in the search? Often in recruitment, as with other services, the person who impresses you at the meetings is not the person doing the work or with whom you have the day to day contact. The recruitment consultant who is de-facto an extension of your company should be professional and have excellent communication skills. You should be confident you have developed a rapport with them and trust their integrity.
10. How will the offer stage be managed?
A good recruitment consultant can play a key role in securing the preferred candidate. This might include discussion of salary expectations, clarification of the role, reassurance about longer-term career progression etc. It is also highly likely that a good candidate may receive a counter-offer to entice them to stay with their current employer and executive recruiters are experienced in handling this scenario.
11. Follow up
What support will the search firm provide, if any, at the completion of the assignment? Integration of new hires is made easier when the search firm keeps in touch with placed candidates. They can help troubleshoot any problems that might crop up in the first month or so.
12. Off-limits policy
Large search firms who are particularly dominant in a particular sector can be constrained by the fact that it is unethical for them to source candidates from existing clients. This is potentially very restrictive, so it is often better to appoint a specialist management consultancy recruitment firm who is not dependent on (for example) the Big 4 for its fee income.
13. Check the fee structure and rebate clause
An executive recruitment firm should provide a clear contract which will cover fees and details of rechargeable expenses. There may also be additional services you require, for example, psychometric testing, which will typically be billed separately.
Retained vs contingent
It is worth noting that the cost of retained recruitment is not dissimilar to the fees for contingent recruitment overall. Contrary to popular belief it is not necessarily much more expensive! However, the total fee will be split into tranches with some form of the initial fee being the most typical aspect. The massive benefit for the client is that for a potentially fairly modest upfront commitment they receive a level of service and commitment to research and candidate sourcing that should be an order of magnitude superior to the multi-agency, success only approach.
This not only dramatically increases the likelihood of success, but also includes a better choice of potential hires, who will typically have been specifically interviewed and screened, in-depth, against your firm and your role.
If you would like to discuss how Prism Executive Recruitment can help with your talent acquisition strategy please contact Chris Sale, Managing Director, on 01344 636426 email [email protected] or use our Contact Us form.