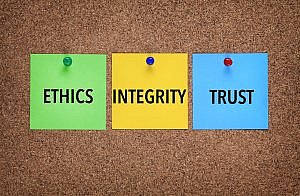 It might seem obvious that when you are looking at hiring a recruiter, you should choose one with integrity. No-one wants to deal with cowboys do they? But in our experience clients and candidates don't look as hard as they should do when selecting a recruiter. Perhaps they turn a bit of a blind eye and don't want to see an inconvenient truth or realise why it's important.
Why it matters to employers
If you're an employer you may not see evidence of a recruiter's lack of integrity so readily. But as you are associated with it, any unprofessional behaviour by the recruiter will reflect on you in the eyes of candidates. Your recruiter is the face of your company to the prospective job applicant.
It will damage you and your brand and you will not getting the best talent. We know of candidates who refuse to take calls from certain agencies and will never apply to their advertisements.
Why it matters to job applicants
If you're a candidate, looking for a consultancy job, dealing with an unprofessional executive recruitment agency will add to the frustration and stress of the process. It might mean:
you don't get the job you want
you end up in a job you don't want
your reputation being damaged with potential employers.
Ensuring you are represented by a recruiter whose integrity and honesty you trust can have a very positive bearing on your career success. A good recruiter will support you in your longer term goals rather than see you as a one –off placement and fee.
How to assess the integrity of a recruitment firm
How can you recognise a good executive recruitment agency? Given that all agencies will present themselves in the best light and claim to be professional how do you avoid the sharks? The only reliable way is personal recommendation. If you find 2 or 3 people mentioning the same agency (either in positive or negative terms) then that is a reliable indicator. This suggests you will be able to form a good working relationship with your recruiter and help them to make your assignment a success.
Recruitment awards can be an indicator of professionalism, assuming they are based on an independent survey. An association with a well-respected industry body, for example the Management Consultancies Association is also a positive.
There are a number of tactics the unprofessional recruiters will employ as part of their modus operandi. All serve to enrage and frustrate the candidate and ultimately result in an unsatisfactory recruitment experience and potentially a sub-optimal hire.
You may not have considered the manner in which an unprofessional executive recruitment firm operates. It is therefore important to know how you can gauge their level of integrity. Use this checklist to see how your prospective recruiter measures up.
Low integrity recruiters might:
Not reply to messages or applications from candidates who apply to the advert they place for a client.
Not give feedback to candidates who are no longer of interest. In many cases simply not ever get back to them.
Lie about the package on offer in an advertisement to lure over-qualified candidates because they might be more likely to get the job, at a higher salary and a bigger fee. Or just to add candidates for other future jobs to their database.
Advertise fake jobs to get candidate CVs and then propose an alternative, less attractive role.
Put off people who are being represented to a mutual client by other recruiters to ensure the latter don't get the fee
Send CVs of candidates to a client without having discussed the role with the candidate or asked their permission. The candidate might not even be looking for a job. Needless to say when the candidate says they're not interested in the role the feedback to the client will be "they've changed their mind" i.e. blaming the candidate
Send lots of irrelevant CVs to a client. Either to meet their activity quotas or in the hope that some will be relevant. No CV send =no interview=no fee. Looking on the bright side they haven't wasted candidates' time or raised their hopes because they haven't spoken to them!
Fake a relationship: they'll tell the candidate they have a great or exclusive relationship with a company to reassure them. In fact they may have no relationship but be using the CV as bait for a potential client. The reverse happens too i.e. clients will be persuaded to consider a candidate on the basis of the recruiter's (claimed) exceptional knowledge of them when they might not have spoken to them.
Persuade candidates of the merits of another client who is paying the recruitment agency a better fee
Poach staff from a client
Change candidates' CVs: from changing typos and improving grammar through to adding skills that the candidate hasn't claimed.
Mislead or bully the candidate to persuade them to go to an interview or take an offer
Have no interest in finding out what roles a candidate is seeking, their career aspirations and offering objective advice. They are only interested in a quick fee, not a long term relationship.
Persuade a candidate to tell them what other companies they are interviewing with and get shirty if they don't. They either want to put the candidate off (see above) or chase the job lead thereby reducing the candidate's chances
Will ask a candidate for references (usually senior people) and use contacting them as a ruse for a sales pitch
In conclusion…..
To an employer it is often difficult to tell that your management consultant recruitment agency is employing these unprofessional working practices when dealing with applicants to your job. And it is more complicated than simply receiving too many irrelevant CVs. The best advice for both clients and candidates is to rely on personal recommendation and not be seduced by slick sales patter and grandiose claims.
Neither employers nor applicants need be represented by one of the cowboy agencies, which are bringing the recruitment industry into disrepute, if they follow these tips.
Prism Executive Recruitment have been winners of Top Management Recruiter Award ten years' running "in recognition of outstanding feedback". Prism is the only is the only recruitment firm to have featured in the top 10 recruitment firms in the Top Consultant Recruitment Report in each of the last ten years. Chris Sale has also been a recipient of individual awards for recruitment.
Prism is an Associate Member of the Management Consultancies Association (MCA).