With our Executive Search service a client retains our dedicated services, paying part of the fee at project commencement: the rest when the candidate starts work.
What the Executive Search recruitment solution offers:
We provide a bespoke service based on tried and tested methodologies, tailored to each individual client
Executive search and selection is our flagship recruitment service which provides clients with the far greater assurance of a successful hire, with the confidence that they have hired the best available talent in the market.
As trusted partners in targeted recruitment, Prism's executive search service offers the certainty of an extremely focused, dedicated and time-intensive approach which invariably yields far superior results yet costs the employer little more than a more basic multiple agency database approach.
In fact, in many ways, it is considerably more cost-effective.
Our service includes everything you would expect from a retained recruitment approach:
Communication
Emphasis is placed on spending time at the inception of the assignment to discuss all aspects of the client and their real goals from the hiring to arrive at an agreed candidate specification and the most effective sourcing and assignment strategy. Of particular importance is the agreement of key selling messages to enable candidate attraction, from even passive and inactive job seekers. Prism then can provide:
A comprehensive and agreed candidate specification and sourcing proposal
A full assignment brief for presentation to candidates at the agreed juncture
Focus
We have many years of experience working in this complex and complicated market.
Once we have a candidate specification, we can offer advice on and identify and agree with the client-specific target companies or individuals.
Breadth of talent
Prism combines the benefits of a specific targeted executive search with those of a well-planned broader candidate sourcing campaign. Unlike many recruiters we source talent across multiple channels offering a far-reaching and comprehensive review of the active and passive candidate market.
We attract a wider pool of candidates for job vacancies using sources such as online subscription databases, online advertising, Prism's unrivalled and extensive database, LinkedIn, recommendations and referrals from our network.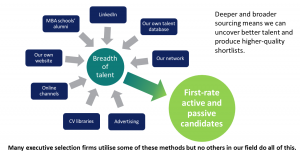 Teamwork
We work with our clients to provide an exceptional service. We manage the full hiring process:
Intensive and extensive candidate sourcing programme
Dedicated interviewing of potential candidates
Interview appraisal
Shortlist presentation
Facilitation of offer and acceptance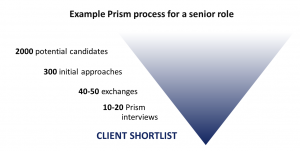 In summary

Prism's executive search and selection solution offers a fully comprehensive, in-depth recruitment service which provides much greater certainty of success with a cost-effective and swift process.
To discuss your recruitment requirements and how Prism can help with your talent strategy, contact us.