"What's the UK job market like?"
The October 2023 KPMG & REC UK Report on Jobs is now out the REC Labour Market Tracker and a major global survey by the recruiting giant Manpower.
"Permanent staff appointments fall at softer pace in September".
The latest KPMG & REC UK REPORT ON JOBS has been published featuring survey results from late September 2023.
The full report is posted here
KPMG commented: "A concerning feature of this month's data is that demand for staff is losing momentum, with total vacancies falling for the first time since February 2021 amid a fresh reduction in permanent vacancies. While both reductions are slight, employers are clearly nervous due to the long-term economic uncertainty and budget constraints that are impacting businesses everywhere."
On a more optimistic note Neil Carberry, REC Chief Executive, said:
"Employers tell us they are feeling better about themselves as the year moves on, and today's data does suggest the possibility of a turnaround in hiring over the next few months. Permanent placements have been falling for a year now from abnormal post-pandemic highs. While permanent hiring activity continues to slow, fewer firms reported a slowdown last month, leading to a much shallower rate of decline than most months recently"
Key findings are:
Downturn in permanent staff hiring eases, temp billings rise
Further rise in candidate availability
Softer increases in starting pay
Overall vacancies fall slightly in September
Greatest increases in demand were in Hotel & Catering and Engineering
Job openings meanwhile fell in several sectors led by Construction and again, Retail
In the latest edition of the ManpowerGroup Employment Outlook Survey, employers across the UK report a seasonally adjusted, Net Hiring Outlook of +27%
Appointments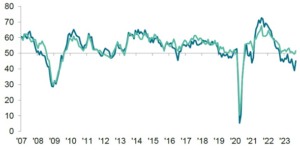 A further decline in permanent staff appointments during September, thereby stretching the current period of contraction to one year. However the rate of reduction eased from August's 38-month record. There were frequent reports that companies remained hesitant to hire extra workers or had implemented recruitment freezes due to rising costs and lingering economic uncertainty.
All four monitored English regions recorded declines in permanent placements, though in all cases rates of contraction slowed from August.
Vacancies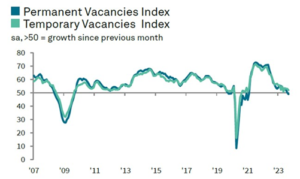 Survey responses signalled a fresh fall in permanent vacancies during September. Though marginal, it marked the first reduction in just over two-and-a-half years.
Demand for permanent staff fell across both the private and public sectors during September, with the latter noting by far the steeper rate of decline.
By sector, Hotel & Catering topped the rankings, followed by Engineering and Blue Collar. However, demand for permanent staff in many other sectors weakened.
Executive and Professional also fell markedly:
Staff availability
The seasonally adjusted Total Staff Availability Index posted above the neutral 50.0 threshold, at 55.5, to signal a seventh successive monthly increase in the supply of candidates across the UK in September. However, the reading was down from 60.3 in August and fell further from July's recent record, to indicate the softest expansion since April.
Underlying data pointed to slower increases in both permanent and temporary candidate numbers.
Panellists frequently linked this to companies restructuring workforces and redundancies. There were also some mentions of people seeking out hybrid work roles or jobs with better pay.
The upturn in permanent candidate supply was broad-based across all four monitored English regions and led by the North of England.
Permanent pay growth slips to two-and-a-half-year low
The rate of starting salary inflation across the UK continued to moderate at the end of the third quarter. Higher starting salaries were generally attributed to competition for skilled workers and the higher cost of living. Although sharp, the rate of growth was the softest recorded since March 2021 and broadly in line with the series average.
Across the four monitored English areas, London was the only region to register a sharper rise in permanent pay compared to August.
However ONS Data released 16 October shows annual growth in employees' average total pay (including bonuses) was 8.1% to August 2023, above the CPI rate of inflation for the first time in the latest period.
London job market
KPMG and REC also produce a London job market analysis.
The headlines are "Slowest decline in permanent placements since January…Renewed increase in temp billings…Starting salary inflation hits seven-month high".
September survey data indicated a fall in permanent staff appointments across the capital for the 12th month in a row, but the rate of decrease softened for the second consecutive month.
There was also a strong rise in Temporary billings in the month.
Candidate availability for permanent roles across London expanded but at the lowest rate for six months and is now identical to the rest of the UK. Availability of staff for Temporary roles also increased at a much reduced rate and is now lower than the rest of the UK.
Latest data signalled a further modest drop in the number of permanent vacancies across London. While the rate of contraction eased to a six-month low, the London data for permanent hiring was stronger than the average recorded for the UK as a whole.
Respondents in the capital reported a rapid rise in pay awarded to new permanent joiners in September. Moreover, the rate of growth quickened to a seven-month high and was the strongest of the four surveyed English regions. The increasing cost of living meant that firms often raised their salaries while a lack of suitably-skilled candidates also exerted upward pressure on pay.
September data also pointed to a sustained rise in temporary wages across London, thereby extending the current run of wage growth to 31 months.
Other data
The Labour Market Tracker, relating to late September, is largely unchanged in recent months but down overall on the earlier part of 2023 .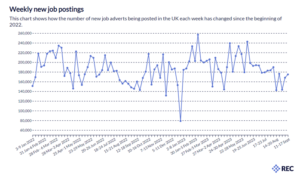 The latest quarterly ManpowerGroup Employment Outlook Survey dated mid September, of 2030 UK employers, remains bullish and states "Strong hiring intentions reported across all UK regions: the West Midlands is the most optimistic region this quarter, with an Outlook of + 33 %, a two percentage point increase on the last quarter and seven points stronger year on year. The South East reports the weakest Outlook at +14%, with a decrease of 13 percentage points compared to Q3."
Methodology
The KPMG and REC UK Report on Jobs is compiled by S&P Global from responses to questionnaires sent to a panel of around 400 UK recruitment and employment consultancies.
For more information on the job market, or to discuss your hiring or career plans please contact Chris Sale, Managing Director, Prism Executive Recruitment via [email protected]
In 2023 there has been a growth in demand for staff and continued salary rises. There have been skill shortages and poor candidate availability albeit since mid-year the market has been more subdued.
Vacancies in some areas are increasing: Hotel & Catering topped the rankings, followed by Engineering and Blue Collar. However, demand for permanent staff in many other sectors weakened. Executive and Professional also fell markedly.
The job market in October 2023 is subdued after a +ve start. However unemployment remains low, there are skill shortages in many sectors.
All four monitored English regions recorded declines in permanent placements, though in all cases rates of contraction slowed from August.