"What's the market like?" May 2021 KPMG/REC UK report on Jobs
The latest KPMG AND REC UK REPORT ON JOBS has been published featuring survey results from April 2021. This covers all sectors and levels of role from Blue Collar to Executive/Professional.
The full survey contains polling from mid-April so any change from that month's easing of lockdown has not been reflected in the survey.
The results are very bullish reflecting strong results from the UK recruitment industry and significant optimism regarding the growth of the economy and the job market
This accords with Prism's experience of the market from mid March onwards and is confirmed by discussions with clients and other recruiters albeit it should be noted that some of the commentary in the report and our experience is "relative". i.e. it's much better than it was!
Key findings are:
Permanent placement growth the highest since October 1997
Demand for staff improves to the greatest extent for 23 years
Marked drop in candidate availability places upward pressure on pay
IT/Computing by far the steepest increase: all other sectors performing well except retail
London performing strongly but with a small increase in the number of available candidates, unlike rest of UK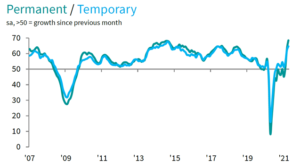 April survey data signalled a second successive monthly rise in permanent placements across the UK. Furthermore, the rate of growth accelerated to the fastest since the survey began in October 1997.
Respondents linked the upturn to an improvement in market confidence and higher numbers of vacancies as national lockdown measures were eased and business conditions began to normalise. Permanent staff appointments expanded at historically sharp rates across all four monitored English regions, with the Midlands recording the steepest increase overall.
Permanent staff vacancies rose for the third month running in April. Furthermore, the rate of growth accelerated to the fastest since March 1998 and was substantial.
Data from the Office for National Statistics (ONS) lags this survey and is more subdued and indicated a further steady improvement in vacancies in the three months to March. Overall vacancies stood at 607,000 in the opening quarter of 2021, which was up from 599,000 in the prior three-month period. Vacancies have steadily risen since hitting a record low of 341,000 at the height of the pandemic, but were -22.7% lower than compared with the same period a year ago.
The sector "IT & Computing" saw the steepest increase in permanent staff vacancies in April, followed by Accounting/Financial and Engineering. Retail was the only sector to register lower demand for permanent staff, though the decline was only modest. Our own experience is that after a flat Q1 there has been a clear upturn in new vacancies.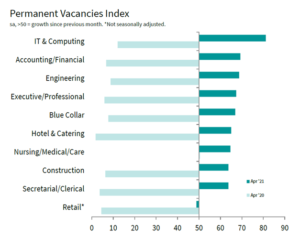 The seasonally adjusted Total Staff Availability Index signaled a sharp reduction in the supply of candidates. Notably, the rate of contraction was the quickest recorded since January 2020. Commentary suggested that people were not confident to seek out new roles due to lingering pandemic uncertainty, while the furlough scheme had also reportedly reduced the pool of workers.
Our own data and experience suggests that many employed candidates are still job searching but in recent weeks there has been a notable downturn in candidate applications especially at the less experienced hiring levels.
Regional snapshot: London
Largely seen as a bellwether for the UK economy because of its scale, the region has not fared well in the last year.
However the number of people placed into permanent jobs in London climbed at a record rate in April. The pace of hiring accelerated from March and was the joint-quickest in over 23 years of data collection (level with February 2010). The latest data marked only the second month of increasing permanent staff appointments since the COVID-19 pandemic began, with recruiters commenting that firms looked to expand their capacity as lockdown restrictions continued to unwind.
Job vacancies in London continued to rise sharply in April, with the rate of demand growth for permanent staff outpacing that of temporary staff for a second month running. Notably, permanent job positions rose at the fastest rate for nearly seven years, and to a similar extent to that seen across the UK as a whole. Positions for temp workers also grew at a marked pace, but one that was slower than the national trend.
Commenting on the latest national survey results, Claire Warnes, Partner and Head of Education, Skills and Productivity at KPMG UK, said:
"There's a lot to feel positive about this month, with the easing of lockdown improving business confidence in the economy and in turn driving a sharp rise in recruitment. However, it's concerning that we're seeing a drop in candidate supply due in part to applicants needing support to adapt their skills to move from displaced sectors to those where there is more demand, such as health and care, and because the furlough scheme has reduced the pool of workers."
Methodology
The KPMG and REC UK Report on Jobs is compiled by IHS Markit from responses to questionnaires sent to a panel of around 400 UK recruitment and employment consultancies.
For more information on the job market, or to discuss your hiring or career plans please contact Chris Sale, Managing Director, Prism Executive Recruitment via [email protected]