"What's the job market like?": February 2022 KPMG & REC UK Report on Jobs
The latest KPMG & REC UK REPORT ON JOBS has just been published featuring survey results from mid/late January 2022.
The full report is posted here and it confirms the firmly established trend of the market since Q2 2021, which is now characterised by a huge increase in demand for staff, skill shortages and poor candidate availability.
This is firmly in line with Prism's view of the market and is borne out by many discussions with employers and also other recruiters.
Our own experience, focussing on the management consultancy sector, is that demand remains robust and candidate shortages very real. With potential applicants we have seen a clear reluctance among some people to seek new roles: there is a strong "wait and see" element with many hoping 2022 will bring promotions, bonuses and pay rises. There is also fear about the economy which is engendering caution.
Some of us with longer memories and an eye on the broader economic picture will recall the phrase used by a former Chancellor: Boom and Bust. Fingers crossed we're not entering that territory….
Key findings are:
Starting salaries continue to rise at near-record pace amid sharper drop in candidate supply
Substantial increases in permanent placements and temp billings
Pay pressures remain elevated as candidate availability falls rapidly
Overall vacancy growth eases but remains sharp
Data from the Office for National Statistics (ONS) showed a further increase in job vacancies across the UK in the final three months of 2021
The quickest increase in demand was seen for "IT & Computing"
"Executive and Professional" category registering weaker increases albeit still buoyant.
The slowest upturn in vacancies was seen in the Retail sector.
Appointments and vacancies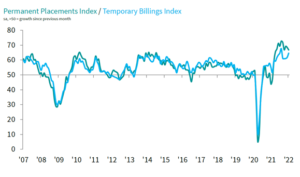 The seasonally adjusted Permanent Placements Index signalled an eleventh consecutive monthly rise in permanent staff appointments across the UK. According to recruiters, improved confidence around the outlook and more vacancies had supported the latest increase in permanent placements. Though sharp, the rate of growth eased to a three-month low.
The steepest increase in permanent staff appointments was seen in the South of England, though rates of expansion softened across all four monitored English regions.
In line with other surveys in recent months IT & Computing posted the steepest increase in demand/vacancies for permanent staff followed closely by Nursing/Medical/Care. The softest rise in permanent vacancies was seen in the Retail sector, followed by Construction and Executive & Professional.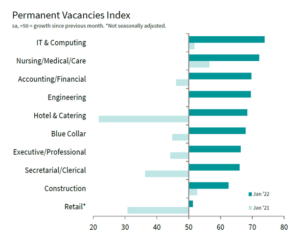 Data from the Office for National Statistics (ONS) showed a further increase in job vacancies across the UK in the final three months of 2021. At 1,247,000, the overall number of vacant positions was up from 1,214,000 in the preceding survey period and the highest since the series began over 20 years ago. As a result, vacancies had more than doubled compared to the final quarter of 2020 (+109.2%). The figure was also substantially higher than that seen prior to the pandemic (+53.8% increase from 811,000 in the three months to February 2020).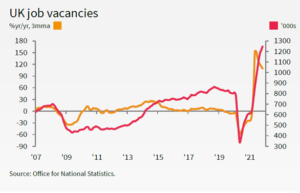 There was a further rapid decline in overall candidate supply, especially permanent staff. Furthermore, it was the first time that the rate of deterioration had accelerated since last August.
Lower permanent candidate numbers were linked by recruiters to a general shortage of available workers, strong demand for staff and a reluctance among some people to seek new roles.
All four monitored English regions registered quicker falls in permanent labour supply, led by London.
Rate of starting salary inflation holds close to record peak
As has been the case since March 2021, salaries awarded to new permanent joiners increased in January. The rate of inflation was little changed from that seen in December and remained only slightly softer than November's survey record. Higher starting salaries were overwhelmingly linked to greater competition for scare staff and ongoing skills shortages.
Regional data showed a broad-based increase in starting salaries, led by London.
However, data from the Office for National Statistics (ONS) showed that employee earnings (including bonuses) rose +4.2% year-on-year in the three months to November. This was softer than the +4.9% increase seen over the prior three-month period and marked the slowest rate of growth for a year. Inevitably this data is relatively old so it is unclear whether it will record the same January peaks.
Regional Picture
As mentioned at the regional level, growth was led by the South of England. The North of England recorded the softest increase in permanent placements, albeit one that was still robust.
Each of the four monitored regions saw permanent staff supply fall in January, with London recording the sharpest reduction.
Across the four monitored English regions, the rise in starting salaries was broad-based, with London-based recruiters reporting a record rise in salaries.
The CIPD View
The CIPD "Labour Market Outlook" report from mid-November concurred that employment confidence remains high. The net employment intentions figure, which measures the difference between the proportion of employers expecting to add jobs and those planning to cut them, had risen for the fifth consecutive quarter to +38, up from +32 last quarter.
However, recruitment difficulties were increasing at this time with almost half (47%) of employers reporting hard-to-fill vacancies, rising from 39% in the last report. The challenge was particularly tough when filling low-skilled vacancies, as the median number of applicants for these roles had dropped from 20 to 16.
In response, employers have adopted a variety of tactics in a bid to combat recruitment difficulties. Almost half (47%) have raised wages over the past six months to help offset hard-to-fill vacancies. Other popular tactics include upskilling existing staff (44%), hiring more apprentices (27%) and improving job quality (20%).
A more nuanced view?
As mentioned previously, back in September a report from the Institute for Fiscal Studies (IFS) (with a more digestible but predictably Guardian slant here) said job opportunities remained below pre-pandemic levels for a quarter of the UK workforce, with more slack in the labour market than official estimates show.
While the situation may have changed many of these observations will still apply.
New job openings had risen by about 20% above pre-pandemic levels by June of last year, according to the think tank, but with the surge in vacancies being driven by low-paying occupations. IFS economists wrote: "The handful of high-profile labour shortage occupations – while real and causing problems for the supply of certain goods – should not mislead us into thinking that worker power is back."
Opportunities in higher-paid service occupations had been slower to recover, the IFS said, especially those often taken by women and graduates, with vacancies for more than 8 million workers still at least 10% below pre-pandemic levels. "Because the new economy does not yet look much like a restored version of the old, the kinds of jobs being advertised are different from the mix of jobs available pre-pandemic," the report said. "This means that . . . many workers will not recognise the relatively buoyant overall picture."
Commenting on the latest national survey results, Claire Warnes, Lead Partner at KPMG, said:
"The new year has seen the jobs market continuing where it left off, with a steep climb in permanent and temporary hiring. Meanwhile, a sustained decline in the number of suitable candidates has pushed starting salaries up for yet another month.
"It will be important to monitor how these dynamic features of the job market respond to the competing pressures being felt by both businesses and candidates – the desire to make the most of the reduction in Covid restrictions on the one hand; and the understandable concern over the cost of living and inflationary rises on the other"
Methodology. The KPMG and REC UK Report on Jobs is compiled by IHS Markit from responses to questionnaires sent to a panel of around 400 UK recruitment and employment consultancies.
For more information on the job market, or to discuss your hiring or career plans please contact Chris Sale, Managing Director, Prism Executive Recruitment via [email protected]