"What's the market like?" March 2021 KPMG/REC UK report on Jobs
The latest KPMG AND REC UK REPORT ON JOBS has been published featuring survey results from February 2021.
The full survey contains polling from mid-February so any optimism from the PM's plan for easing lockdown or the success of the vaccine programme has not been reflected in the survey.
The results are however more positive than those from January which was the first month of the new lockdown: notable in that a usually positive New Year sentiment was reversed by the lockdown announcement.
This accords with Prism's experience of the market in January and February and confirmed by discussions with clients and other recruiters.
Key findings are: 
Slight further decline in permanent placements following January's drop
Rising candidate availability slows sharply
Demand for staff broadly stable after January slowdown
A further fall in London marking 12 months of decline in permanent vacancies
Executive/Professional sectors remain weak in both permanent and temporary hiring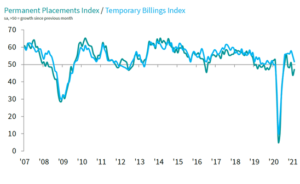 There was a softer decline in permanent placements in February with specific mention of a pause on hiring decisions following the lockdown announcement. The South of England and London regions registered the sharpest rate of reduction. The temp and contract market remained steady but notably less active than Q4 2020
However new vacancies stabilised with no further decline. ONS figures for Q4 2020 showed a slight rise in Q3 albeit down 26% on an annual basis.
Looking at the data in more detail reveals that Retail and Hospitality are faring poorly while Nursing/Medical are in strong demand: no surprise there but Executive and Professional also remain weak. Our own experience is that after a flat January there has been an upturn in new vacancies.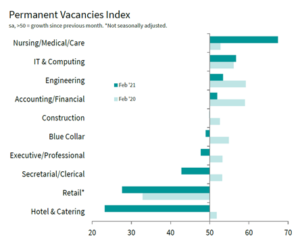 The seasonally adjusted Total Staff Availability Index signalled only a fractional rise in the supply of candidates. This marked the weakest upturn in availability since the current sequence of expansion began last April.  Commentary suggested that redundancies were reduced while the latest lockdown and greater uncertainty had made candidates more reluctant to consider a move.
Our own survey data from December/January suggests that many employed candidates are still job searching but in recent weeks there has been a notable downturn in candidate applications.
Regional snapshot: London
Largely seen as a bellwether for the UK economy because of its scale, the region has not fared well in the last year.
The number of permanent staff appointments in London continued to fall markedly during February, extending the current run of decline to 12 months. The rate of reduction softened slightly from that seen in January but was still quicker than the UK trend. Surveyed recruiters largely attributed the drop in placements to industries that were shut or severely impacted by national lockdown measures. That said, some panellists saw an uptick in demand for workers in categories such as IT and construction.
February data pointed to a further sharp decline in open permanent roles across London, despite the rate of reduction easing since January.
Commenting on the latest national survey results, James Stewart, Vice Chair at KPMG, said:
"Business confidence remained subdued in February, with a further drop in permanent appointments and the lingering pandemic uncertainty still evident. "The jobs market remains on hold with hiring decisions stalled, people reluctant to seek new roles and the growth in temporary billings has also slowed. However, it's encouraging that it's not seeing the big drop in vacancies or hiring that were seen in the first national lockdown.
"There's a long way to go to rebuild confidence in the UK jobs market. But with the Covid roadmap to recovery in place and the Chancellor's Budget announcement to further support businesses and individuals, there is a reason for optimism for the UK's future workforce."
Methodology
The KPMG and REC, UK Report on Jobs is compiled by IHS Markit from responses to questionnaires sent to a panel of around 400 UK recruitment and employment consultancies.
For more information on the job market, or to discuss your hiring or career plans please contact Chris Sale, Managing Director, Prism Executive Recruitment via [email protected]