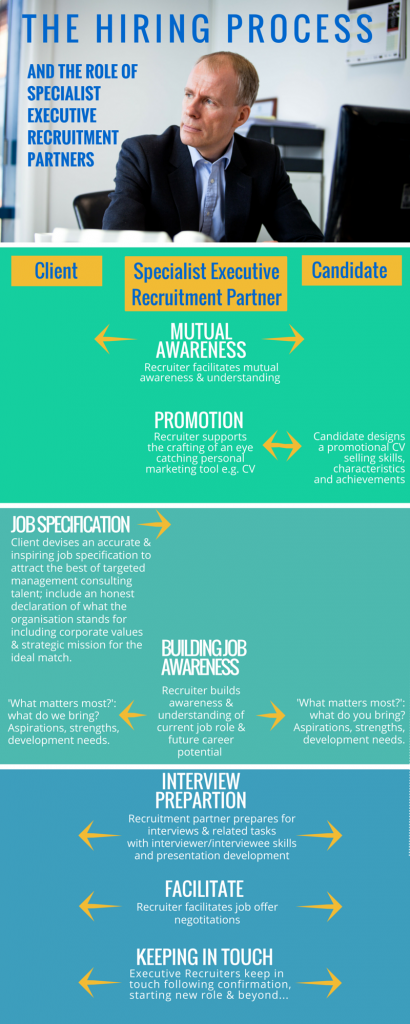 Communication is at the heart of everything in Management Consultancy Recruitment.
Few would argue against effective communication being an essential ingredient of success for individuals and teams from every walk of life as well as large & small organisations. Consultancy recruitment is no different; it is an industry where effective communication remains paramount. Unfortunately communication is so often taken for granted: it's something we all do, but not necessarily as well as we think.
Are messages always sent with full clarity?
How accurately are received messages interpreted?
To whom do you turn for checks & trusted feedback?
Perhaps the most neglected of skills: how well do we listen and/or watch attentively to fully understand?
Strong communication skills are not innate, but they can be learned. Especially important now that the modern day, instant Googled answer coupled with social media immediacy surpasses 'sluggish' email channels. How much care is taken to ensure truly effective communication?
Care is vital in the world of the management consultancy recruitment agency: effective communication is at the core of driving every successful hiring process.
The Big Question in Consultancy Recruitment:
How can hiring managers increase the likelihood of success in appointing the ideal management consulting candidate?
A Huge Answer:
A specialist executive recruitment partner facilitates clear mutual understanding between clients and job candidates. This is largely contingent on effective communication between all parties involved in the hiring process, particularly ensuring a clear understanding of a role's responsibilities and person specification.
When shortlisting candidates, a management consultancy recruitment agency offers guidance to the client in the process of selecting the most appropriate applicant for a vacancy, for instance in devising the interview and negotiation processes – this advice can be invaluable, given that the majority of those involved in taking recruitment decisions are not trained interviewers. An effective recruitment process which ensures that the very best talent is selected is far from a simple process, and many employers routinely underestimate the difficulty involved in doing so.
Similarly, management consultancy recruitment agencies provide candidates with advice on a wide array of aspects relating to job searches and career development. Developing a strong CV is crucial and represents one of the many aspects that a management consultancy recruitment firm can assist with, as well as identifying new career opportunities to apply an individual's talents. Prism Executive Recruitment offer free and practical advice to individuals looking to realise their longer–term career aspirations.
Therefore, engaging with a credible management consultancy executive recruitment partner is vital to enabling effective communication across the whole hiring process.
Please visit our Client Services and Candidate Services pages for more information on how Prism Executive Recruitment can help with your management consultant recruitment.