The sky hasn't yet caved in and the plagues of locusts have yet to arrive but what is the current state of the management consultancy recruitment market, especially for permanent hires?
The simple answer is that after a dip in the summer, pre and post-vote, it remains steady albeit not buoyant.
In the management consultancy sector, more than many others, recruitment is about confidence: if business leaders are sure of growth they will be willing to hire people to go on the bench secure in the knowledge they won't be there long. If less optimistic then they might still hire against specific projects, confident that they will have new clients and assignments when those finish.
However, If there is great uncertainty the business might have utilisation through the roof but will turn away projects or use associate staff rather than increase permanent headcount.
Uncertainty will also, of course, influence their clients' willingness to sign off consultancy spend, often seen as non-essential and easy to delay, which will have a direct impact on a firm's fortunes and hiring plans.
In addition, firms will become more risk-averse: even if they are hiring they will only take a round peg to fit a round hole and will be cautious re salary offers.
The other perspective, of course, is that of the candidate: negative perceptions of the job market combined with their view of the risks of a move compared with relative security of staying put can reduce candidate availability significantly.
Which creates the paradox of fewer jobs but also difficulty in hiring.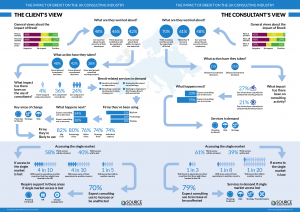 An excellent infographic above from Source Global Research originally published in the summer but updated this week provides a very authoritative albeit mixed view:
70% of consultancies think business confidence will be negatively affected
48% are worried about the job security of their employees
27% say clients have cancelled or postponed projects
However, 55% expect consulting use to increase.
Only 21% have delayed recruitment decisions.
Interestingly their clients are more cautious: 38% having cancelled projects, 42% have delayed recruitment decisions and 36% are using fewer consultants.
Source's opinion is that "there's been a clear move into action mode" might bode well for consulting firm's hiring plans.
In October the Management Consultancies Association in "Consulting Excellence after Brexit: Quarterly EU Survey findings" commented "Consulting firms are already reporting adverse effects" and "Project delays and general confusion or uncertainty were prominently listed as early impacts to the UK economy by consulting firms"
There is no definitive recruitment data for the consulting sector as yet but the authoritative monthly "Report on Jobs" for November suggests a mixed picture but certainly not doom and gloom.
Jo Chantry, General Manager of Top-Consultant.com commented "After an initial dip in July, recruitment is now back to normal for this time of year"
Prism's experience of the market is reflected in new vacancies and placements as well as the numerous strands of information we gain from discussions with candidates and employers. It is clear that there was a marked dip in the summer: the usual quiet August was backdated into July and June.
However, the market has picked up since albeit it remains cautious. In particular, we find that some candidates, even those of high quality and with marketable skills, are less busy with applications and interviews than we would expect. This is especially true at more senior levels.
Candidate supply has held up and although skill shortages remain there is no evidence of large scale "hunkering down" on the part of management consultants.
For further information on the current Management Consultancy recruitment market please contact Chris Sale, Managing Director at [email protected]