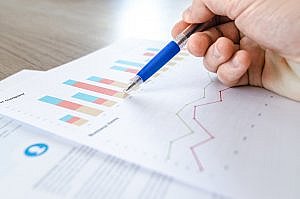 Overview
In October 2018, Prism Executive Recruitment polled 3,000 experienced management consultants with a short questionnaire. There was also an opportunity for respondents to provide commentary on their experiences and opinions.
99% of the respondents had over 5 years' total experience and 85% had been permanently employed as a management consultant within the last 5 years.
Summary
Key Findings:
90% of respondents were potentially interested in a job move
The key reason for leaving was dissatisfaction with an employer's direction or culture
77% cited their own network as a main channel for identifying job opportunities. This was particularly relevant to more experienced and senior consultants
Applications to jobsites and via recruitment agencies were also still key job search channels
Over 80% of consultants use LinkedIn for identifying consultancy roles
After LinkedIn the most frequently used jobsite was Executive Appointments, closely followed by Top Consultant and Indeed
Job responsibilities and career prospects are key considerations in looking for a new role
Active vs Passive Jobseekers
There is always much discussion about the mind-set of career minded employees with LinkedIn in particular maintaining that most people are willing to entertain a move and also our own related commentary on the subject.
Of the participants who responded, only 10% said they were not interested in a job move. This may seem unsurprising given they are management consultants known to an Executive Recruitment firm! However it should be emphasised that the management consultants selected to receive the survey were in contact with Prism across 10 years or more of which recent "registrations" are a very small minority. This is also exactly the same figure presented by LinkedIn.
For an individual concerned with maximising career opportunities, keeping a watchful eye on the job market and receptiveness to headhunt approaches is a wise strategy. It is axiomatic that sometimes the best time for a job move is BEFORE the point at which they get sufficiently disgruntled to start actively looking for a role.
For an employer and recruiters, it shows the importance of keeping a semi-active dialogue with potential future hires so that they are warm to an approach when there is a job that might tick their boxes and before they are "active" and therefore considering multiple options. It also lends emphasis to the importance of a positive candidate experience, to which we will return later.
Main reasons for leaving the last permanent role
People move jobs for a host of reasons of course. What is especially interesting about this data is that for more experienced consultants i.e. 10+ years', salary and career prospects are relatively unimportant. The overriding sentiments were around disagreement with the culture and direction of the employer.  This phrasing covers a range of different issues but in Prism's experience, in many cases the underlying factor is related to businesses restructuring, being taken over, or a new strategy which employees no longer feel aligned to.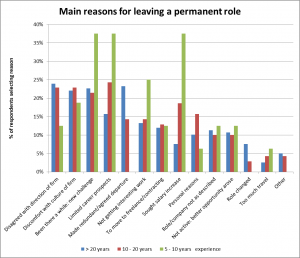 However the data tell a different story for those at earlier stages of their careers i.e. 5-10 years where salary and career prospects are more clearly cited as drivers for a move. In this group "new challenge" was also a key consideration. It is notable that none of this group cited "redundancy" as the main reason for the move: an affliction of the older and more experienced group.
Many people reading this survey will recognise these factors in their own circumstance or careers but what can employers do to mitigate these and improve retention? The encouraging news is that salary is 8th on the list of reasons so the solution does not have to be pay rises. However it seems that businesses that are so reliant upon their Human Capital and Talent should do more to limit the collateral damage of strategic business decisions affecting their employees. Clearly businesses have to change and evolve: but the biggest single factor driving staff to leave is closely related to this dynamic.
How consultants find a job
The main route by which management consultants search for jobs is through their own network, and this is especially true of the most experienced consultants. An astonishing 77% cited it as one of their main channels.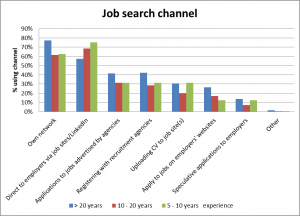 "Own Network" is important to less experienced consultants too, but much less so, probably reflecting the inevitability that for most professionals networks grow throughout a career.  Some viewed this as a sign of ageism with the suggestion that the more formal recruitment channels are more likely to screen out older candidates. One observation was "websites are an utter waste of time for applicants in their 50s. Networking seems to be the best option".
Whilst the importance of direct employer/candidate recruitment channels is clear, consultancy recruitment agencies are also seen as a key part of the job search strategy, across all levels of experience and seniority. A significant % will apply to agencies' advertisements, or register with management consultant recruitment agencies or do both. Indeed, the figures will inevitably underplay the role of "head hunters" because the question was around job search and waiting for a headhunt approach doesn't therefore feature! (the framing was deliberate because we wanted to know what people would do now, not how they found their last job which could have been many years ago).
Also, many executives would view a long term relationship with a recruiter as part of their "network", confirmed by several comments to that effect.
Applications via employers' own websites was one of the least popular routes: our own experience is they are rarely "user friendly", especially compared with the ease of other application channels. One respondent said "own employers' websites [are] too clunky and awkward to complete" while another disliked the "automated, transactional" aspect.
From an applicant's perspective it confirms the long held belief that the best route to a new job might be the network but that a hybrid approach involving recruiters and direct approaches is essential, albeit time consuming.
For employers it emphasises both the importance of encouraging employees to refer good quality contacts and to provide an environment where that they will be well looked after in the talent process. It also suggests a hybrid approach that recognises talent could come via a number of different channels is essential. Finally, it once again highlights the wasted potential of the employers' own website as a recruitment channel.
Despite the importance of the "network", many consultants also expect to apply to advertised jobs and the dominance of LinkedIn as a job board is stark: c80% of consultants with 10 years+ experience use it and 97% of those with 5-10 years' experience.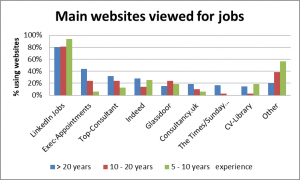 The differences in use of websites across experience groups were also revealing: Executive Appointments was cited by 44% of the most experienced respondents, 24% of the 10-20 year bracket and by only 5% of the 5-10 year cohort. This might not be surprising given the name of the site but the minimum salary is £50,000 so it would seem likely that many of these less experienced consultants would aspire to salaries above that.
Top Consultant remains important to experienced job seekers, but less so for those earlier in their career. While Indeed and Glassdoor are also popular, the latter is more so with less experienced respondents.
The demise of The Times/Sunday Times is stark: once the dominant newspaper channel for appointments, it was cited by only 11% of respondents as a website to consider. Other sites with 11% or fewer mentions each were Jobsite/Totaljobs, JobServe, eFinancial Careers, REED and Monster.
The lessons for job applicants: LinkedIn is key BUT also consider that there are other channels available.  They will be less competitive as they are less frequently cited by other management consultants so your chances of a successful outcome may be correspondingly greater.
For employers, LinkedIn seems to be the only game in town. However a significant % of management consultants are using other sites and for many employers it is both difficult and expensive to differentiate themselves and compete for talent on LinkedIn. Therefore it may be worth fishing in a different pool.
What do management consultants look for when considering a role?
The question asked was "what is the most important factor when considering a new role?"
The headline figures are unsurprising: key factors are "job responsibilities and scope" and "salary" albeit adding in the respondents who selected "package" too puts remuneration as the primary factor, with 25% citing one or the other of these two considerations
However the differences with respect to experience/seniority are very clear:  for 5-10 years' and 10-20 years' experience "career prospects" are top priority compared with only 7% of 20 yrs+. Indeed for the 5-10 year bracket "career prospects" was more important than salary and salary package combined.
By contrast "culture and values" didn't feature as the "most important factor" with the less experienced consultants at all, and "job responsibilities and scope" is also relatively unimportant. However they are the top two most important considerations for the 20yrs+ group.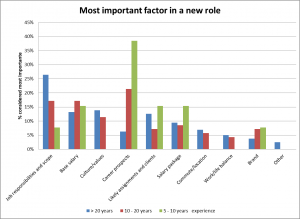 Location/commute, travel and work/life balance were the most important factors for very few respondents albeit many cited these as influencing considerations. Also, diversity & inclusivity and size were rarely mentioned as factors.
These variations are not entirely unsurprising and reflect people's different priorities at different stages of their lives and careers.
The lessons for employers and recruiters are clear:
Salary and package are a key consideration and the scope to attract candidates by appealing to other motivators if this is not right is limited. A frustration noted by many respondents was the lack of salary information when replying to advertisements;
The message to take to the job market should be influenced by the seniority and experience level of the individual you are seeking to attract.
Attraction of consultants earlier in their careers requires a clear focus on career prospects: in practice much recruitment material emphasises the employer, the culture, values, job role and experience.
How do consultants find smaller employers? 
The "Big 4" and other major brands employ large numbers of management consultants and often offer excellent training, experience and careers.
However many consultants are attracted by the opportunities available in smaller organisations. By definition however these are less well known so the survey asked the question "how would you find [these employers]?"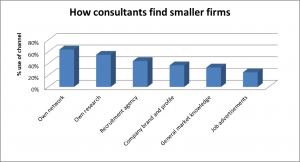 "Own network" was again the primary route, yet this was less often cited than under the "main channel in your job search" question.  Use of a "recruitment agency" to draw attention to lesser known organisations is cited by 44% of respondents and is clearly a key factor in potential applicants' job search strategy.
The relative unimportance of "job advertisements" was notable and may suggest that consultants would not apply to job advertisements placed by an "unknown" employer.
Prism's previous research has suggested smaller firms are concerned that being a relatively unknown name was a hindrance in recruitment. This survey confirms that a hybrid approach, employing several channels' is likely to be most effective, including the option of using consultancy recruiters to be brand ambassadors. It also suggests that profile raising, which many firms would be hoping to do as part of their marketing, will have the additional benefit of improving brand awareness with potential employees.
Top Management Consultant frustrations 
The survey asked the question: "how could employers improve your job search experience?"
1. Feedback and responding
Overwhelmingly and by far the most frequent comments related to lack of feedback or responsiveness during the application process. Respondents referred to lack of "basic manners" and "I'm amazed at how many…firms don't let the candidate know" and even "if I don't get a response I reject that employer for ever". One noted "so often even second interviews receive no feedback: arrogant and unprofessional".
2. Improve advertisement and job requirements
Varied comments with especial concerns at lack of salary details leading to wasted time on both sides; lack of clarity on "essential" and "nice to have" experience and also "candidate requirements" reading like a shopping list of unrealistic or irrelevant criteria.  Many commented on the need for more information around scope and responsibilities of the job role, culture and work-life balance.
3. Process
There was frequent reference to the speed of application processes and the delays in response. Consultants also commented on the desire for clarity around the recruitment process and the stages of interview. Generally there was a desire for improved and timely communication.
4. Personal touch
It was clear from many comments that applicants found the increasingly impersonal nature of websites, Applicant Tracking Systems (ATS) and the recruitment process frustrating. Frequently expressed sentiments were summarised in a one word comment: "humanisation".
Addressing some or all of these points is a golden opportunity for enlightened employers to take a lead over their competitors. This is particularly relevant for smaller firms, who can demonstrate their more human scale and concern for the individual than would ever be possible for the behemoths!
If you would like to discuss any of the above please contact Chris Sale Managing Director, Prism Executive Recruitment at [email protected]. For more information on our services please visit prismrecruitment.co.uk