Introduction to Prism's 2015 Consultant Recruitment Survey
In April 2015 Prism Executive Recruitment commissioned a survey of small to medium-sized Management Consultancy recruitment firms. It was undertaken in the form of telephone interviews by an experienced independent researcher to ensure objectivity and confidentiality. Nineteen firms participated.
The questions covered overall hiring intentions, levels, hotspots, management consultant recruitment processes and experiences. April timing was chosen because firms would, by now, be seeing patterns in the market for 2015 hiring.
The Hiring Intentions of Management Consultancy Firms
All firms we spoke to were recruiting management consultants and indeed 64% are accelerating the rate of headcount increase compared to 2014. 27% of firms contacted expected percentage headcount increase to be at a similar level to last year.
Most of this recruitment is expected to be concentrated at Consultant/Senior Consultant and Manager/Principal levels.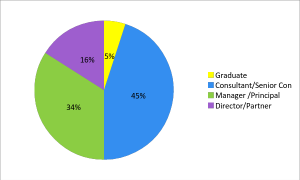 While no firms volunteered that they experienced considerable difficulty in consultant recruitment, most indicated that there were some areas of pain.
There are a number of common themes regarding the challenges Management Consultancy firms are experiencing:
Consultants with genuine business development talent are scarce and those in big firms are both difficult to afford and reluctant to take the risk of moving to a smaller firm
There is a shortage of management consultants with 4+ years of experience partly as a consequence of reduced graduate recruitment between 2008 and 2012.
Work-life balance is contributing to attrition at mid-levels.
It was also noted that there can be a misalignment with expectations of the appropriate hiring level. Those in larger firms can on occasion seek a role more senior than their current or fail to be convinced that a move to a smaller firm at a similar level usually involves a broader and more influential role.
There are specific areas where management consultant recruitment is particularly difficult:
Change management – overall demand is high, buybacks and counteroffers are common.
Capital Markets – it is difficult to attract candidates with this experience as current employers tend to value their skill set highly and look after them well.
Retail and consumer goods.
In all sectors, it is a challenge to find individuals with a good depth of specialist knowledge, rather than generalists. Niche experience at the junior level is particularly scarce.
There was also mention of the difficulty of attracting and retaining the most junior staff: there was little loyalty and a clear "what's in it for me" agenda.
How Management Consultancy firms approach recruitment
90% of firms use a variety of recruitment strategies.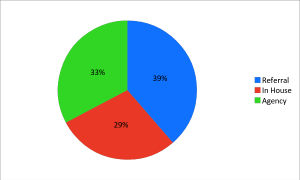 The overall split of management consultant recruitment methods across all firms taking part was as shown in the pie chart above.
All firms taking part in the survey confirmed that their preferred method of management consultancy recruitment was via referral. Various advantages were cited:
Candidates have a good and realistic view of the firm prior to engagement in the recruitment process.
Generally, high-quality candidates are recommended by people who know the firm and requirements.
More likelihood of a good cultural fit: this was universally highlighted
Cost-benefit.
On the other hand, a job hire that does not work out can result in a difficult situation for the referrer. In addition, there was recognition that relying upon this method can narrow the gene pool of both talent and experience.
In house recruitment teams were seen as cost-effective, the major drawbacks being the time involved and the inability to approach candidates anonymously.
36% of respondents used management consultant recruitment agencies as their main method of recruitment and the majority of firms use 2 to 4 agencies. The overall opinion of the recruiters used was very positive.
Despite the obvious disadvantage of the cost involved, which was invariably mentioned, a number of important benefits were flagged up:
Much more effective use of hiring managers' time.
Ability to widen the search for candidates across the whole market.
Specialist knowledge of the market.
Ability to make discreet approaches.
Act as brand ambassador for the firm that otherwise might be an unknown name.
The most commonly encountered frustrations with agencies were consultants who did not take time to understand the brief, felt they knew better than the firm who they should recruit, were too pushy, or simply get frustrated and "give up" if they don't find suitable candidates quickly.
The four most important attributes for a recruitment consultant were felt to be:
Ability to listen to the brief and really understand the client firm's needs.
To form a good relationship with the firm to ensure they have a full appreciation of the type of candidate who will work well within the firm.
Have a specialist in-depth knowledge of the market.
To ensure they work hard to take a proactive approach on behalf of their clients.
Further observations included the wish for a recruiter to be advisory and consultative with both the hiring firm but also the candidates: this was added value that wasn't open to in house recruiters.
The value of building long term relationships with a small number of agencies with management consultancy recruitment experience was mentioned, together with a reluctance to consider new suppliers.
Summary of findings
Although the participating firms were a broad cross-section in the Management Consultancy recruitment sector, there was considerable consistency in the responses. The overall messages are clear:
Consulting recruitment firms are putting considerable effort and resource into hiring and are broadly successful.
Almost all adopt a hybrid approach to candidate sourcing.
Referrals are overwhelmingly felt to be the optimum consultant recruitment process albeit it can be very time-consuming.
Agencies are viewed very positively on a number of counts but with cost consistently raised as the primary problem.
We explain more in our Guide to Recruitment Methods in Management Consultancy.
For further information or to discuss any aspects of this survey or points raised please contact Chris Sale (Managing Director) Prism Executive Recruitment on 01784 898049 or [email protected].
For further insights into the Management Consultancy sector please see the MCA and Source Global Research websites. We are delighted to be an MCA Associate Member.