Technology is increasingly being used in all aspects of life to speed up processes and reduce human intervention. Anything that can be done to automate time-consuming processes potentially saves money.
In recruitment, Applicant Tracking Systems (ATS) have been used since the 90s to store information on applicants but increasingly both employers and recruiters make use of technology and AI to screen applicants both manually and automatically. The aim is to identify relevant candidates, which allows recruiters and hiring managers to focus on individuals suitable for further dialogue.
The technology uses keywords in order to facilitate the recruitment process. It is, therefore, crucial to apply your knowledge of ATS and also understand the importance of using appropriate keywords. This can ensure your CV is near the top of the pile when you apply for a role or a search is undertaken for a particular set of criteria. If you have a LinkedIn account, correctly using keywords on it can help recruiters and head-hunters find your account.
How are Applicant Tracking Systems used?
These software applications enable the electronic handling of job applications and recruitment information. Applications received by either a recruitment agency or an employer will be automatically or manually uploaded via an ATS. This will extract information from your CV to create a record of your job history on a recruiter or employer's database. This has been the case for many years.
Increasingly however this information MAY then be used to automatically screen you for the role you have applied to.
It is also commonly used to match you against future roles.
Most recruiters' databases are less sophisticated than LinkedIn. Consequently, anything you can do to make your CV demonstrate that you can provide the correct skillset can only aid the process. As a starting point, it's vital to have a well-defined idea of the job you are seeking. You can then optimise your CV and LinkedIn profile for that type of job through the use of keywords. If you are applying for a specific job, your CV should be tailored to that role using the same tactic.
How do you help the ATS to select your CV?
In theory, it's quite simple. All ATS systems use keyword search or selection (and may employ other contextual filters too). Without the right keywords, your CV may never get shortlisted or seen by a real person despite you being the perfect candidate for a job.
You want to appear in searches that most aptly reflect your skills, experience and career aspirations. Whilst it may be tempting to ignore the keyword frenzy, the truth is that with the increased use of ATS based screening you may struggle to get your CV seen by the right person as your CV stalls at the automated gatekeeper.
Not only should you make your skills and knowledge sound appealing, but you must also identify and include essential keywords to ensure you reach the desk of the recruiter or hiring manager in the first place. Clearly, once you have done so the human being making further decisions will also be influenced by keywords.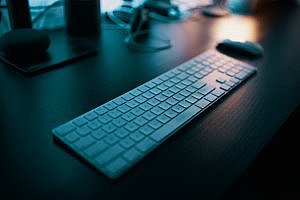 What is a keyword?
Keywords are words or phrases which are commonly associated with a specific job title or position. It may be that there are specific abilities or certifications required for the role. Keywords are the words you would type in, the buzzwords or jargon associated with a specific industry or job role. They are the terms you will find in a relevant job description.
In order to identify the keywords for your own profile, do some research into informed and relevant keywords. There are tools you can use to help identify the most appropriate keywords for your CV and Jobscan has some good advice on identifying relevant keywords.
ATS screening works by matching your CV and the keywords you've used to the description and keywords in the job description and advertisement. The better your CV matches the keywords in the job description, the higher your CV will rank in any ATS. Make sure that you use keywords advisedly and naturally. Don't artificially add them to your CV or LinkedIn profile as many ATS systems can identify 'keyword stuffing' and may discount your CV.
How should you use keywords?
1. Job titles
These are perhaps the most obvious keywords. Whilst many job adverts use generic job titles such as "Management Consultant" or "Programme Manager", invariably when you are actually in post the job title is slightly different and often a clearer reflection on the nuances of the role. It's not always immediately apparent to a recruiter how relevant unusual job titles are, so it would certainly present unnecessary challenges for an ATS.
By searching either on Google or specific job boards it's not too difficult to identify the types of job titles used; not to mislead a potential employer but make sure job titles you use are industry recognised for the job that you do. You can always add the company-specific/contractual job title in addition if it makes you feel more comfortable.
It is also important to make it easy to understand your level by using words such as Senior Manager/Director/Lead as appropriate.
2. Skills
In order to gain traction with your CV, it's important that the skills keywords used in the document not only reflect what you have done previously, but they also need to be identifiable as the skills a hiring manager or recruiter is looking for.
Make sure that the skills you include are present in your current job and form part of the skill profile for the job you are seeking. Research the skills of those you know with a similar career path or those you aspire to follow and make sure you include both hard technical skills e.g. SAP and softer skills such as tenacious work ethic, conflict resolution or self-confidence.
3. Job-specific and industry-specific jargon
Generally speaking, people complain about the use of business jargon outside of the office. Many people try to avoid it as a result. However, during your job search and production of your CV, it's vital that you refer to relevant industry-specific tools or techniques. Otherwise, an Applicant Tracking System searching for that specific experience or knowledge will pass you by. You must ensure that your CV includes the information, skills and experience specified in the particular advertisement: the common sense of course but unlike a real person the ATS won't be able to make an inference! Be careful not to be TOO specific: you may think everyone knows what TMT means but if an ATS is looking for "telecoms" you won't be spotted.
4. Keywords in LinkedIn
Over 90% of recruiters reportedly use LinkedIn to find suitable candidates for jobs. This is often done by keyword searching. The profiles returned will be those who have used industry/role specific keywords in their LinkedIn profile. Whilst a LinkedIn profile is not intended to replace a CV, it is important that keyword searches are considered. Furthermore, upon receipt of an interesting CV, most recruiters will also refer to a candidate's profile so it should support and complement your job applications. More advice on how to ensure head-hunters call you can be found in our Linkedin blog. Make sure that your profile promotes your business credentials and encourages recruiters to reach out to you.
In summary
You may feel you have a good relationship with various recruiters and hope they will keep you in mind should a suitable vacancy arise. Whilst this may be true in a specialist executive recruitment firm like Prism, busy recruiters in large agencies may receive several hundred applications for a job which may be filtered by an ATS. It is also worth bearing in mind that most large employers use some kind of ATS system as part of their recruitment process. If it does get to a human your CV will be subject to the "10-second rule" i.e. the average amount of time a CV is initially read! In both cases, decisions will be made with keywords playing a key role. They are critical to the success of your job search and it is well worth investing time to research and include the most relevant to your CV and digital profile.
We have more advice and help with your job search on our Candidate Services page including CV writing, and updating your LinkedIn profile. We also have a comprehensive guide to answering a range of interview questions you may encounter.
See our Vacancies page for a selection of our current vacancies.