The latest UK KPMG/REC Report on Jobs has just been published by IHS Markit, with data from September.
The survey polls over 400 recruitment firms nationwide and across the economy and has been around since 1997, providing exceptionally consistent reporting over a long period.
The headlines refer to an increase in recruitment activity, with permanent placements and temp market billing both rising sharply and vacancies expanding for the first time since February.
While the rate of expansion in placements was the quickest since October 2018 it was from a low base and overall market conditions remain subdued because of uncertainty around the pandemic and Brexit.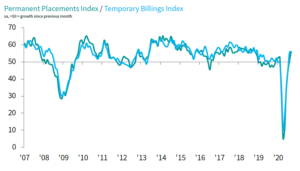 Overall there was the first increase in vacancies since February and recruiters noted a marginal increase in demand ending a six month period of contraction. The week of 14-20 September saw 129,000 new job advertisements posted, the highest since lockdown.
By sector, permanent hiring in IT and Computing, Engineering and Construction led the way with continued contraction in Retail, Hotel/Catering and Clerical roles. Executive and Professional was neutral.
The temp. picture is markedly different with Blue Collar seeing a sharp increase, followed by Construction and with the sharpest contractions in both Executive and Professional and Retail.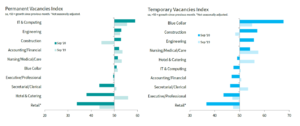 Despite some positive news, there was a further increase in candidate availability across the UK, remaining among the steepest on record, reflecting more redundancies.
The regional picture remains concerning with London, a bellwether and the largest region, seeing placements and demand continuing to fall, albeit only slightly but following 5 months of sharp decline. The report states that London is  an outlier, given slightly more upbeat news from other regions, and points to the unique challenges of re-opening the city's economy.
The Midlands showed the quickest increase in permanent staff appointments followed by the South of England, albeit also with the most marked increase in permanent candidate availability.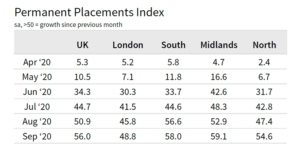 Commenting on the latest survey results, James Stewart, Vice Chair at KPMG, said:
"While it's encouraging to see a further recovery in hiring activity and that growth in permanent staff appointments was the strongest for almost two years, it's concerning to see another rapid rise in total candidate availability.
"With increasing unease over what will happen in the coming months with the pandemic, Brexit and with the end of the furlough scheme in sight, the uncertainty for UK business is not going to dissipate anytime soon.
"The Government has got challenging times ahead to continue to offer adequate support to business, opportunities for jobs seekers to upskill while helping instil confidence in the UK workforce."
Methodology
The monthly UK Report on Jobs is compiled by IHS Markit from responses to questionnaires sent to a panel of around 400 UK recruitment and employment consultancies.
For more information on the job market, or to discuss your hiring or career plans please contact Chris Sale, Managing Director, Prism Executive Recruitment via [email protected]