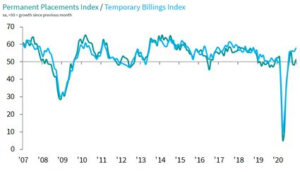 The latest UK KPMG/REC Report on Jobs has just been published by IHS Markit, with data from their December survey.
The survey polls over 400 recruitment firms both nationwide and across the economy and has been around since 1997, providing exceptionally consistent reporting over a long period.
The good news headlines are that permanent staff appointments rose slightly in December and the total demand increased, albeit marginally, for the first time in three months. This was attributed to slightly increased business confidence especially the vaccine news.
Temp roles saw a marked expansion expanding at the fastest rate since October 2018 with the suggestion that continued uncertainty about the pandemic and Brexit led to a preference for short-term hiring.
This is in the context of a traditionally quiet month in the recruitment market so any reports of improvement in demand are clearly very welcome.
This was echoed by ONS vacancy data which, although only to November,  confirmed a modest bounce back from the lows of earlier in the year.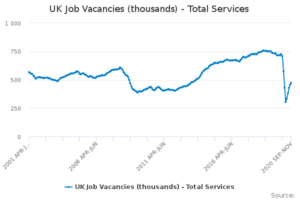 There were mixed trends across the English regions: the North and Midlands posted the most buoyant figures with London performing poorest and the only region to register a fall in both permanent and temporary placements.
"Staff availability" i.e. people looking for work, increased for the ninth month running albeit the rate of expansion eased from the August high. This increase was also greatest in the capital.
From a sector perspective IT, Medical and Accounting performed strongest for permanent demand with Medical, Blue Collar and Engineering leading temporary vacancies. Retail and Hotel & Catering remained very hard hit across both.
James Stewart, Vice Chair at KPMG, sounded a note of caution given the new lockdown but said:
"The emergence of a vaccine did bring more confidence to the jobs market in ….however, we will have to see what January brings with a new national lockdown sure to fuel economic uncertainty, alongside preparing and adapting to the new relationship with the EU. But there is hopefully light at the end of the tunnel for both business and jobseekers."  
Prism's take on the temperature of the market is similarly cautiously optimistic: since the end of the first lockdown we have noticed continued demand for staff and an increase in enquiries from employers towards the end of 2020.
Provided there are no major shocks (clearly not a given) we expect that trend to continue over the coming months.
Fingers crossed!
Methodology
The monthly UK Report on Jobs is compiled by IHS Markit from responses to questionnaires sent to a panel of around 400 UK recruitment and employment consultancies.
For more information on the job market, or to discuss your hiring or career plans please contact Chris Sale, Managing Director, Prism Executive Recruitment via [email protected]